Celebration Day for Girls - Adelaide East - August 2021
Event description
Celebration Day for Girls is a one day workshop for 10-12 year old girls and their mother/female carer, to prepare and empower them for their transition to womanhood through menstruation rites of passage. 
Designed to inspire curiosity and appreciation of the changes of puberty and the onset of menstruation - Celebration Day for Girls nurtures connection, normalisation and openness through practical and positive information, stories and fun activities. 
The day a girl gets her first period is an important rite of passage. In the west, we do little to prepare a girl for this time. Conversations are typically held at school when a teacher comes and talks about reproduction and growing bodies.  
Being in a group of supportive women brings in a sense of excitement, belonging and wonder to this stage of becoming being a woman and having a menstrual cycle. We enjoy lively discussion, fun activities, women's stories, and a gentle celebration of the magical threshold of puberty and menarche.
Celebration Day for Girls is an Australian program - available in over 20 countries and has been running since 2000.

PLEASE NOTE - venue or date changes may occur if restrictions are enforced. You will be notified by SMS and email if changes are needed.
**There are two sessions required for this event** 
Workshop includes:
1) 1 night Mum's Session (Sunday 8 August) 6:30-8:45pm, and
2) 1 full day Mother and Daughter session (Saturday 15 August) 9:00am-3:45pm  in a beautiful setting in Adelaide's eastern foothills. 
Looking forward to meeting you and your daughter ! If you have any questions about the event (including inclusion policy) please contact me 0428 685 017.
Facilitator - Melissa Hellwig
Naturehood, Nurturehood 
For more information please see the national website  https://celebrationdayforgirls.com/

**Mothers attend the Sunday night without their daughter. During this session mothers/carers explore their own experience of puberty. We will cover the content of the workshop and offer the chance to express your hopes and wishes for the day.
**On the following Sunday, mothers drop off daughters at 8:45am. Session runs 9.00 am-12:30pm including craft and other fun creative activities for girls), body & cycles literacy, practical tips for menstruation, lively discussions, yummy food and story telling. The Mothers join in the afternoon session from 1:00pm-4.00pm. Throughout the afternoon, girls are engaged in more creative activities while inter generational stories are shared.
**Both the first Sunday night and then the second Sunday afternoon are required for the mums.

By celebrating menarche we give a profound message to girls that this process within her body is important and valuable, and so is she, as she learns to inhabit and navigate her changing status through her teenage years.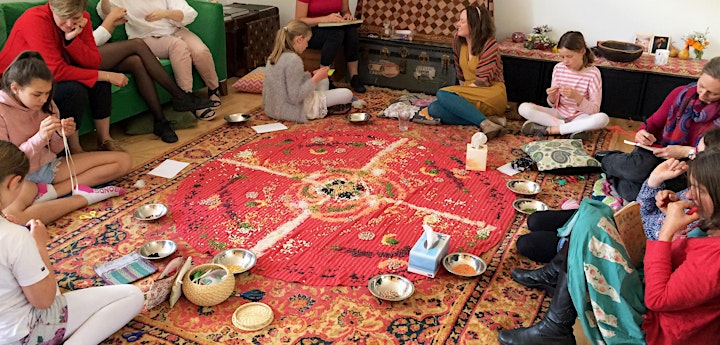 Share with friends on social media please :) 
About the Facilitator
Melissa lives in Adelaide with her partner and adult children. With has a science background, an Environmental Masters degree and yoga teaching qualifications (children's yoga and Ashaya yoga), she operates a nature connection and healing practice - Naturehood, Nurturehood. Over the past 5 years Melissa has been working in the facilitation, rites of passage and women's ritual and circles space and is a certified facilitator for CDG. She is also a mandala artist. 
* Bachelor of Science (UNE)
* Masters Environmental Management (UNSW)
* Yoga TT (Ashaya Yoga, Canada)

---