illuminate Enterprise Challenge | Eastern Australia
Event description
Immerse your students in enterprise skills, business, problem solving and entrepreneurship in one massive week!
Welcome to the illuminate Enterprise Challenge that we're running across Australia in 2023 - and our program in June, hosted from the University of Canberra, is perfect to allow your children and students to be part of an educational experience that has inspired over 19,500 students from over 260 schools across Australia.
Across the week, our team facilitate the entire experience where students will;
Look at new ways to address challenges in our community, and change them for the better with a focus on impact,
Be exposed to a range of business skills to help create sustained impact and growth,
Introduced to innovation approaches, problem-solving skills, and measuring impact,
Learn from industry experts & academics, bringing real-world knowledge into the mix,
Apply their skills & capacity in new ways that are aligned to the Australian Curriculum,
And do it all in a team-based, problem-solving-focused innovation environment.
By the end of the challenges, teams will present novel solutions to current challenges, with financial forecasts, impact measurements business strategies, marketing materials, prototypes and a pitch for investment – with all of the skills developed and introduced in the week if students have not done business before. And outside of this, focus on building skills including perseverance, collaboration, design thinking, creativity, presentation skills and much more!
The illuminate Enterprise Challenge will be coming to you, with the support of the University of Canberra, from Monday June 26 - Friday June 30, where students can attend sessions online from their school with dedicated online facilitators to support your students, and join with students participating in person at the University of Canberra.
Our program is heavily subsidised by our partners, with registration fees covering the costs of handing resources and associated postage;
$5 per student (+ GST + Booking Fee) until May 1, 2023 (when it rises to $10/student)
$20 per team (+ GST + Booking Fee) for a team of between 5 and 7 students, until May 1, 2023 (when it rises to $50/student)


More about illuminate Education Australia
illuminate Education Australia designs and delivers engaging and intensive education experiences that combine design thinking, entrepreneurship, social and ethical understanding, business and personal development into every single impactful learning opportunity. We bring our passion, industry knowledge and education experience together into something that makes a positive impact for everyone we work with – young people, teachers and their wider community.
Everything we do is shaped around the skills laid out below that are critical to be confident, creative and capable to lead change and shape our community now.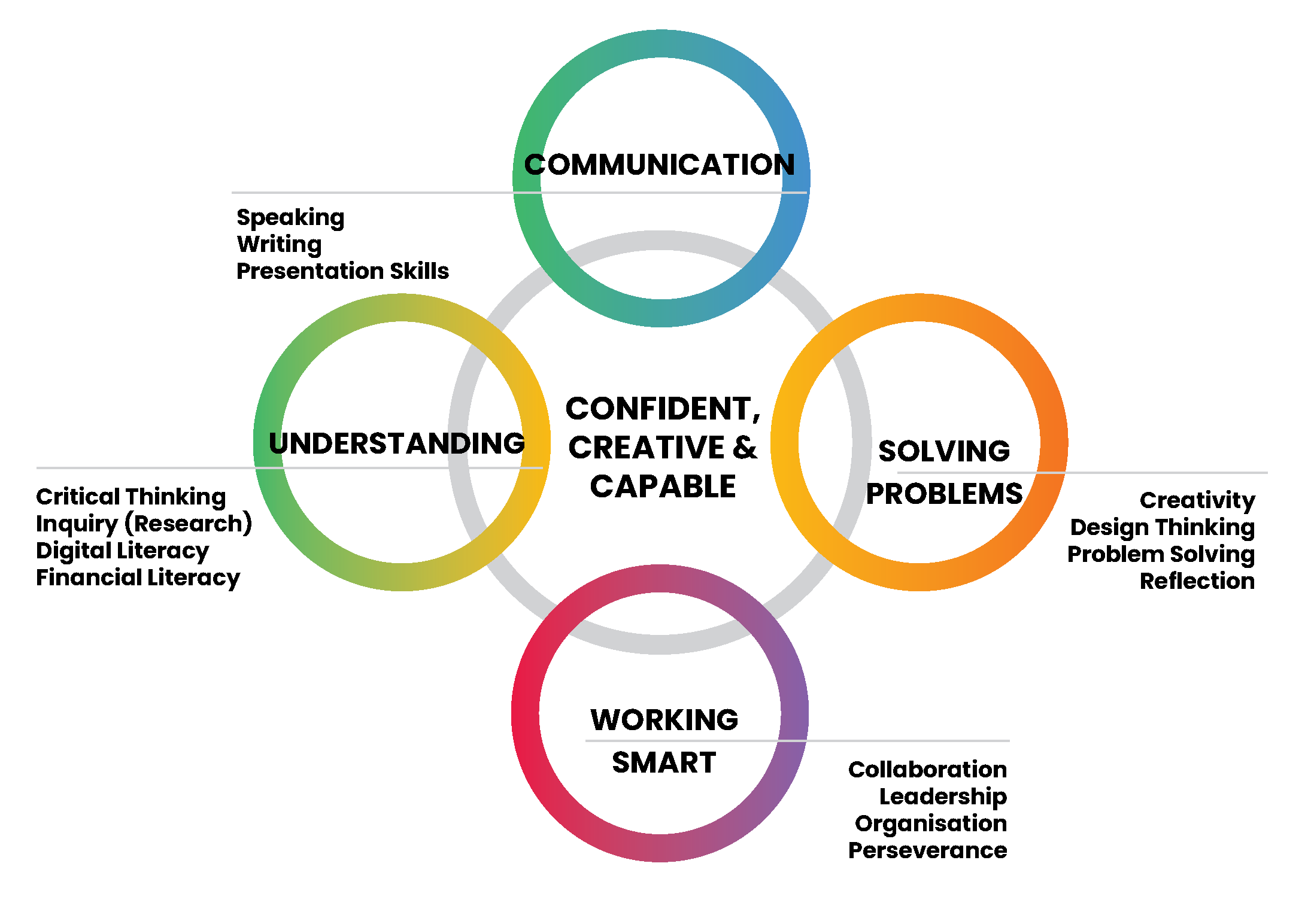 More about the illuminate Enterprise Challenge
The illuminate Challenge is the flagship program of illuminate Education Australia, taking students through a five-day innovation process. Teams begin by developing their understanding of a relevant community issue and define a problem they see, they then creatively explore and refine possible solutions, develop business models for sustained impact as well as marketing materials and financials, and finally teams present the idea for investment with a prototype of their solution.
We deliver our programs in regions like this, and also work with schools to deliver an exciting innovation-focused incursion for students of an entire year level, aligned to core skills, outcomes and impact that the school wishes to make in the community, providing an opportunity for students to develop a core set of life skills that they can use from the very first day of the program to the rest of their life.
Sounds fun! Who should do this Challenge?
This Challenge is designed for a wide range of students. To help you consider which students to get involved, we recommend you consider the following cohorts.
Students who are interested in business and entrepreneurship, regularly showing initiative and leadership in the classroom.
Students that are disengaging from learning in the classroom – the authentic application of real-world skills in the challenge allows students to flourish.
Students currently considering if further study is an option for them.
Students that are excelling in schools as the challenge's self-directed approach allows their passions to drive their performance.
Students currently undertaking business, commerce, or accounting classes.
Interesting. What do other people have to say about this Challenge?
"It was clear to me that illuminate are building capability, and improving the confidence and career prospects of these students. I'm hoping to become more involved because I can see the value Illuminate adds to both the students, industry and the broader community."
- Ellen Piper, People, Commonwealth Superannuation Corporation
"In this rapidly changing world with the rise of emerging economies and onset of digital disruption, programs like the illuminate Challenge are absolutely critical to regional communities. Rather than seeing change as a threat, illuminate Education opens the eyes of our young people to the opportunities that change presents."
- Tim Watson, General Manager, Dorset Council.
"I really do believe that this challenge, and the skills that were developed by students, will have a lasting impact on them, not only for success in Year 11 and 12, but also post-school education and in their working lives. A huge thank-you must go to the illuminate Education team and to our local businesspeople that so willingly volunteered their time to be a part of the program. What invaluable mentors our students have had!"
- Dale Massie, HSIE Teacher, Terrigal High School, NSW.

---