Men's Christian Convention 2022
Event description
REGISTRATIONS ARE NOW CLOSED.

Sorry, but online registrations are now closed.

We will be accepting at-the-door registrations, so please still come along!


Topic: Persevering Together
One who has unreliable friends soon comes to ruin, but there is a friend who sticks closer than a brother.  Proverbs 18:24
In our increasingly hostile and lonely world, we need to rise to the challenge to help one another follow Jesus to the very end. God has graciously gifted us Jesus as our saviour, His Spirit as our comforter and His word as our guide and also one another as brothers on the journey.
At Men's Convention we will be considering how we can 'persevere together' so that none of us come to ruin and are left behind.
Speaker: Andrew Southerton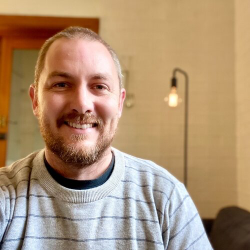 Andrew and his family moved to Wellington in 2014 with three simple aims: teach the Bible, love people and not be weird.
Some things people do find weird about Andrew is that he grew up as a Mormon, he didn't play rugby until he was at university and that his three kids laugh at his jokes.
Some things that people don't find weird are his lovely wife Adele, their cute dog Matilda and that he left working as an accountant to head into full time ministry.
Andrew loves to teach the Bible and keep things uncomplicated. He is responsible for leading the team at City on a Hill Evangelical Church in Wellington.
Programme
Pre-Session: Seminar + Fish & Chips Dinner [SOLD OUT]
Making the case for friendship in the Christian Life
5.15pm - 6.45 pm

Sorry, but the pre-session is now SOLD OUT


Main Session: Seminar + Supper

Persevering Together: No-one Left Behind

7.00pm - 9.30 pm


About Men's Christian Convention

The aims of the MCC are to encourage men to live for Christ and to support the work of local churches in their work in this area.
The conference brings together men from churches of different denominations across Canterbury and beyond: we invite godly and gifted bible teachers to expound God's word for us, and enjoy praising God together through excellent music.
The Men's Christian Convention is run annually in Christchurch by the Gospel Training Trust.

---