Event description
About the Forum
The SPEAQ Forum is SPEAQ's key professional development event, bringing the Domestic and Family Violence Perpetrator Intervention sector together to connect, inform, educate, and strengthen the passion that drives this work. The event has been held annually since 2009. After a brief pause in 2019 and 2020, last year's SPEAQ Forum 2021 was our first ever 2 day Forum, held online. Building on the great success of last year's event, we're heading to Cairns for our first SPEAQ Forum in a regional centre, bring together local, statewide, national and international perspectives.

Event Details

Who it's for: People working in or interested in intervention work with men who have used violence or abuse in their relationships, and the associated partner/family advocacy work. For practitioners and managers in men's DFV Intervention Programs (Men's Behaviour Change Programs) and in related and connected services.
What: SPEAQ Forum 2022. Breaking the mould: Progressing our responses to diversity

Where: Cairns Colonial Club Resort, Cairns, Far North Queensland
When:
Pre-conference workshops: Wednesday 9th November 9am to 12pm  and  1pm to 4pm
Day 1: Thursday 10th November – 8:45 am TO 5:00 pm   and 
Day 2: Friday 11th November - 9:00 am to 4:00 pm

Click here to view the Programme Outline.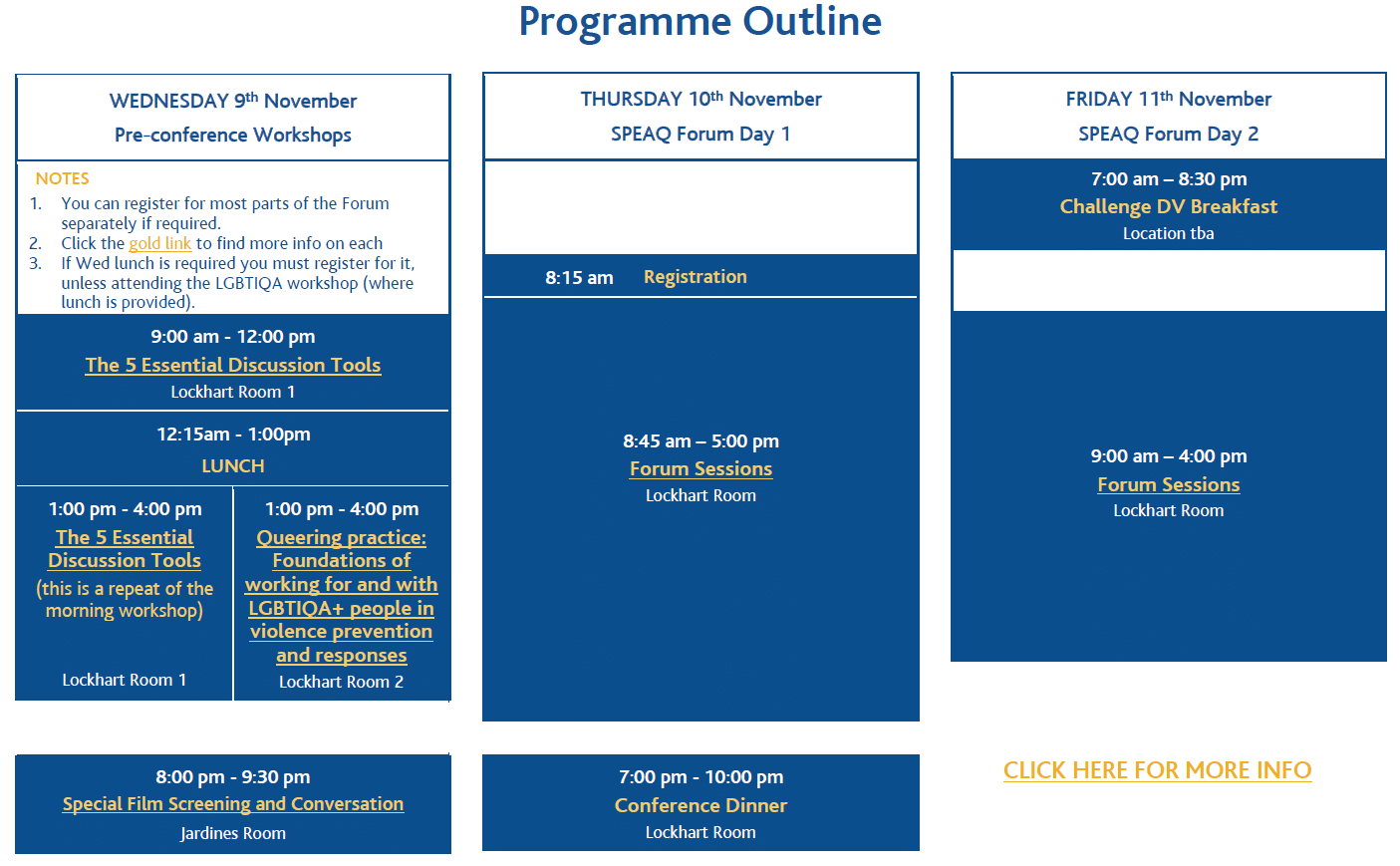 What does it cover?
This year's theme is Breaking the mould: Progressing our responses to diversity
The theme for this year's Forum is about change, growth and diversity. We're seeing diversity broadly – recognising the important considerations of serving marginalised populations as well as considering diversity in the mainstream – in individual needs, relationship and behaviour patterns among the persons and families we work with; the diversity of approaches to the work; and the diversity of intervention types emerging, from brief early interventions, to diversion programs to complex and high risk case management to long term behavioural and attitudinal change, both face to face and on-line, group and individual.

From the early days of mainstream MBCPs using less than a handful of models, intervention with persons using violence is now developing into a field that is broad and diverse in multiple ways, with the common purpose of intervening effectively to create safety for those affected by abuse, and bring accountability and greater humanity to those perpetrating it. At this conference we're interested in supporting this growth and exploring the growing edges.
This year's Forum provides:
professional development facilitated by people with diverse and deep experience in the field. 
a chance to share practice wisdom and experiences with other practitioners 

opportunity to develop practice ideas for intervention work in multiple contexts, with a special focus on Men's DFV Intervention Programs. 
opportunity to hear about new developments in the field and how services are dealing with a changing operating environment 
a unique networking opportunity, bringing people together from within our specialist field, in Queensland and beyond
an opportunity to further develop our practitioners and services network
Programme
The SPEAQ Forum 2022 Organising Committee has put together a  diverse and interesting programme that addresses core business for Men's DFV Intervention Programs and also speaks to the diversity of work in this rapidly developing field of  intervention work with men who use DFV. The work of advocates - those supporting affected family members - is also very much in view. The Organising Committee has incorporated ideas provided by members, along with our own careful consideration of sector needs and what makes for a good Forum. Our intention has been to craft an event that meets the needs of SPEAQ members and provides something of value for all attendees.

Topics include an interagency discussion exploring a coercive control case study, trauma-responsive practice with men who have perpetrated DFV, learning from work with Aboriginal and Torres Strait Islander people, meeting the needs of LGBTIQA+ people, intervention with adolescents and young people, working with people from culturally and linguistically diverse backgrounds, exploring how perpetrator motive impacts on victim advocacy work and more.
Professor Patrick O'Leary, Griffith University, a member of the Women's Safety and Justice Taskforce with a long history of involvement with perpetrator intervention work in Qld, will provide the opening keynote presentation. Thelma Schwartz, Principal Legal Officer at Queensland Indigenous Family Violence Legal Service and also a member of the Women's Safety and Justice Taskforce is also confirmed for the coercive control panel discussion.
We're also very pleased to welcome from international guests Steve Halley and Dorthy Stucky Halley of the Family Peace Initiative in Kansas who will be contributing to several sessions and providing an overview of their approach.
Most importantly, the programme is designed to allow plenty of opportunity to hear from and connect with colleagues from across Queensland and interstate.
Subsidised pre-conference workshops are being offered on Wednesday 9/11, in collaboration with No To Violence and WorkUP Queensland.
Click the link below to see the Programme Schedule. A few final tweaks will be happening in the next few days, so check back here closer to the event for an updated version.


To learn more about previous SPEAQ Forum events, check out information from previous years' events.
Accommodation
You can book a room for around $130 per night at the conference venue: cairnscolonialclub.com.au/accommodation. Other options include the Cairns Plaza Hotel, Palm Royale; NRMA Cairns Holiday Park, Crystal Garden Resort and Cairns Sheridan Hotel.
Travel Subsidy scheme
The SPEAQ Forum 2022 Travel Subsidy Scheme is designed to assist SPEAQ members from around Queensland, particularly in rural and remote regions, to travel to Cairns for this year's SPEAQ Forum. The maximum amount awarded to each successful applicant is $800. Application is by online form, due by Wednesday 26/10/2022. Successful applicants will be notified within a week following 26/10. The subsidy will be paid as a reimbursement on substantiated travel expenses (however you can complete the application based on quotes). We are kindly supported by Challenge DV which is providing a number of places within this scheme. Click this link to complete the online application form.

Registration
Note: Member prices are available to current financial members of SPEAQ (i.e. employees of member organisations and Individual members). If you are unsure of your member status, contact the organiser using the link at the bottom of this page).
Click here for all registration tickets.
Registration for each part of the event closes cob on the day before one week prior to the event date.

-----

Thanks to our sponsor, WorkUP Queensland for their generous support of SPEAQ Forum 2022. Go to workupqld.org.au to find out more.
Thanks to Challenge DV for their generous support of the Travel Subsidy scheme for SPEAQ members, and hosting a breakfast listening event on Friday morning.

Thanks to the Queensland Centre for Domestic and Family Violence Research for providing administrative assistance in the preparations for this event.

SPEAQ acknowledges Aboriginal and Torres Strait Islander people as the traditional custodians of our land and sea. We pay respect to all Elders, past, present and emerging, as well as to the individuals and organisations working in their communities to address all forms of domestic and family violence.
Please note refund policy includes refund up to 14 days prior to the event (less booking and processing fees). 
---