Vinyl Composition Tile/VCT * Care & Marketing - Orlando Classroom/Remote * 11/1/23
Event description
Are you ready to unlock the secrets to stunning floors and revolutionize your maintenance approach?
If you're tired of staring at lackluster flooring and pouring money into solutions that yield no change, it's time to break free from the cycle. Upgrade your knowledge, enhance your skills, and witness the remarkable difference professional expertise can make.

Why Choose Our Resilient Floor Maintenance Class?
If you've been relying solely on tools and equipment upgrades, it's time to recognize that true transformation begins with knowledge. Our masterclass is designed for those who are committed to continuous improvement, eager to make an impact, and determined to achieve floor maintenance excellence.
If you are joining us at the Orlando classroom...
PLEASE PARK INSIDE OUR BUILDING - It's the only drive-thru Jan/San supply house in the nation.

What You'll Gain:
Comprehensive Expertise: Dive deep into the realm of resilient hard floor maintenance, a vital component comprising a staggering 80% of a Technician's labor. Equip yourself with a robust knowledge foundation that sets the stage for mastery.
Proven Strategies: Uncover daily cleaning "Best Practices," master the art of weekly interim processes, and delve into the intricacies of periodic stripping and finishing of resilient vinyl composition tile floors (VCT). Understand the nuances of luxury vinyl (LV) flooring care and grasp the key differentiators in maintenance compared to VCT.
Hands-On Proficiency: This class is more than a lecture – it's an immersive experience. Roll up your sleeves, engage with state-of-the-art equipment and tools, and put theory into practice. Witness firsthand the power of your efforts to yield impressive results.
Eco-Friendly Innovation: Explore groundbreaking techniques for stripping floor finish without resorting to chemical strippers. Embrace environmentally-conscious solutions without compromising on quality.

Highlights:
Expert Instruction: Learn from seasoned instructors who are passionate about sharing their wealth of knowledge. Prepare to have your questions answered and your curiosity ignited.
Interactive Learning: Participate in dynamic sessions that encourage collaboration with fellow participants. Exchange insights, learn from real-world experiences, and cultivate a network of like-minded professionals.
Proven Methodologies: Gain exclusive access to tried-and-true methods that will redefine your approach to floor maintenance. Experience firsthand the impact of employing advanced tools, chemistry, and equipment.

Event Details:
Date: November 8, 2023
Time: 9-4
Location: Orlando, FL
Investment: $175
Limited Availability: Secure your spot early, as seats are limited to ensure personalized learning.


Embark on Your Flooring Transformation!
Don't settle for less when you can achieve extraordinary results.
Step into a realm of innovative floor maintenance techniques, expert mentorship, and hands-on practice that will reshape your floor care philosophy. Reserve your place now and embark on a journey toward becoming a resilient floor maintenance technician.

Classroom attendees must wear appropriate clothing for hands-on skills training.  No open-toe shoes are allowed for hands-on participation.  All learners will be given a course handbook to keep.

Learning Modules
Understanding Resilient Floors
Floor Care Terms
Daily Grit Removal
Floor Care at the Door
Mechanical Removal
Damp Mopping
Automated Soil Removal
Floor Surface Protection
Gloss Restoration
Interim Maintenance
Finish Restoration
Top Stripping Floor Finish
Chemical Stripping Floor Finish
Finish Application
Your instructor, Dave Thompson, is a 50-year veteran of the industry having owned and operated a building service contracting company, consulted with thousands of operations across the US and abroad, and taught professional development to thousands of students around the globe.

He will be demonstrating 'best practices' during these LIVE remote learning sessions each afternoon.  When joining via remote, we encourage you to have a webcam in order to have two-way communication for the best outcomes.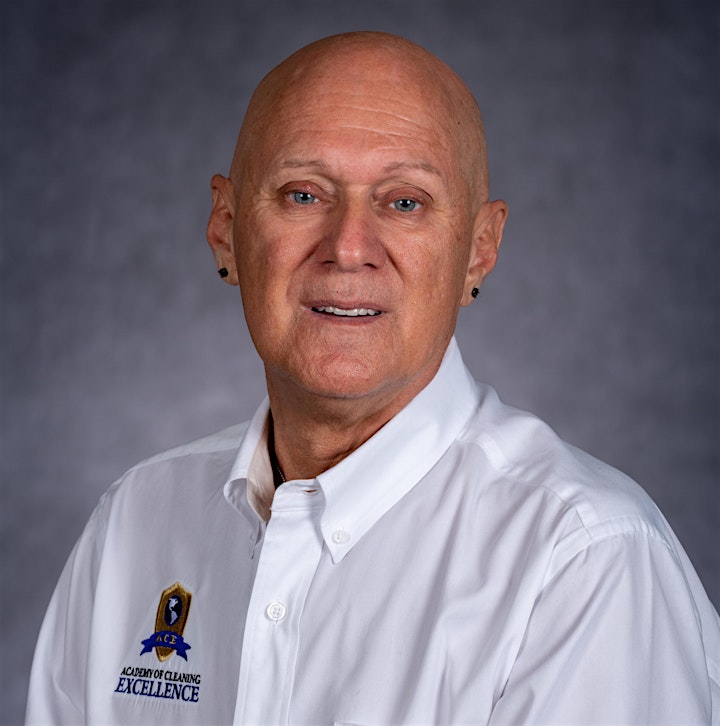 "The most valuable resource an operation has is an engaged employee, let that be you!"
---